What results have clients had?
This is great, thank you so much!  XXX is doing great! Talked to her this morning and she has NO craving for a cigarette. She is in good spirits and reports that the negative little voice in her head is gone. No critical, demeaning, judgmental or hurtful words from that voice.
After we left your office, it was like talking to a new person, positive and endless smiling. She felt lighter. No longer bearing the weight of her past and the PTSD from her trauma.
We went to XXX and ate…, facing the beautiful landscape of endless farmland. It felt as if her good energy was filling the car and being shared with me. So calming. As she talked, my eyes welled up with tears, happy tears. I'm so happy for her.
Thanks so much for changing her life. –K.M.
---
Hi Gayle,
I want to thank you for your constant presence, patience, guidance, and wisdom beyond words.
I appreciate you stepping in and reminding "me" this is not about the past but what I Want Going Forward.
You are courageous even fierce in your healing and refuse to let me fail despite my continual returning to old habits.
I am thankful spirit brought me to you.
God bless you and please don't stop sharing your gifts. — D.J.
---
---
"…When I was less than ten years old, my youngest brother was killed in freak accident. I held his hand as he died. I heard the rattle. I had been the big brother, the one in charge. I blamed myself. Never again did I allow myself to be in charge. I gave that power to others. If something bad was going to happen, at least it wouldn't be my fault. I was never the same…
…Back at work, I developed a pain in my neck. It would crack as I moved my head around, and neither chiropractors or massage therapists could make any headway. It was so bad some days that a bump in the road would cause significant pain while driving… I knew that something had to change and that something was me. I had always wanted to improve myself but this time was different. This time I was willing, willing, to change who I was. I made an appointment, we talked…The pain in my neck is now gone…
…My wife, my beautiful, long-suffering wife is happy with the new me. I'm a lot more decisive, no longer so moody. She had always encouraged these characteristics in me and I would have obliged, if I could have done it on my own. Gayle helped the good come out…
…I sincerely hope that whoever reads this is able to find the same measure of change that I have."
— Matt V.
---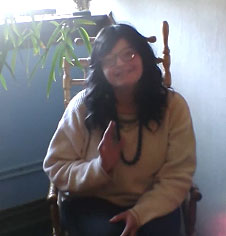 Listen to S.B talk about her hypnosis experience.
---
"Dearest Gayle, I just wanted to send you a little update. I haven't touched my head or a cigarette since Monday before our appointment. The cigarette thing hasn't even been hard. I do notice my body responding to things that would normally involve smoking. I get an indigestion type feeling when it would be a usual smoke break moment. I've been using the EFT with great success. The other thing, the hair thing…is harder to explain. It's just not there. I can't begin to quantify this freedom. Tears come every time I try. I went out and got some art supplies. I began working on a series of images. What my journey inside looked like. My imagination is on fire and it started in your chair. Si I'm drawing what my path and my lake looked like. Maybe watercolor. Either way, it's good. It's so good to be able to breathe again. Literally and figuratively. I owe you a debt of gratitude. I'm fairly convinced you're a magical creature. Love to you."
— S.B.
"My shoulder pain is completely resolved. It took a while but now it's gone.  I felt very relaxed in a way I have not before. At the same time I felt very energized."
– D.S.
"I am so grateful to Gayle Nielsen, I had extreme pain in my legs and was excepting the fact that I would have to live with the pain. I went to see her a couple months ago and can't believe the difference. I feel so much better now. She is passionate about what she does and it shows. I would recommend any one having pain to keep an open mind and try this."
– Deb N.
Hi Gayle, just wanted to let you know that the hypnosis sessions on my crew worked wonders! We watched a movie that had snakes in it last night and normally XXXX would have gone nuts. He didn't even react! XXXXX is doing great and my outlook has become much more positive. Thank you x 1000! Happy 2018!
— M.G.
"Gayle's intuition and guidance during the process is one of the huge values of the experience.  When one is overwhelmed and stuck in the mud, it's often difficult to see far enough in front of your own nose to know a direction to take.  Gayle provides that and gives you tools to use at home that will help sustain that direction and clarity…
…In the end, I can't recommend Gayle and her services highly enough.  Her care and intuition are second to none and she is also one of those rare individuals that makes you feel better about yourself by just being around her.  Awesome skills, guidance and care!"
– Jeff K.
Read the full letter here
"I came in order to tackle my weight issues. I felt I needed to get my head in the right place to make permanent changes. My sessions and recorded sessions relax me and "reprogram" my thought processes! It is part of my overall plan and is working very well."
– A.K.
"Gayle is a genius and is very knowledgeable about what she does. I trust her and she is very passionate at what she does. … It was way easier to quit (smoking) than I thought it would be. I feel amazing and I truly thank you."
-S.S.
 "I attended on of Gayle's workshops for the public on hypnosis. Her attention & enthusiasm were contagious & I returned a month later for a session."
-E.B.
"Still not smoking and not going crazy! LOL…. I feel better equipped to handle stressful times."
-J.G.
"I tried not to have expectations. …  After receiving two sessions I felt new pathways of awareness into my deeply entrenched mental/emotional patterns. …  You do what you do very well. … You rock, Gayle!"
-K.L.O.