Feel Good Friday
September 29, 2017
Feeling great begins with eliminating chronic pain. That's right. Not managing it – eliminating it. When there is no longer a reason for pain to be in the body (for example, pain may be a signal that medical attention is required – in that case, it's useful for it to remain) we can let it go by communicating directly with the body/unconscious mind. This is a fast and enjoyable process using the Kinetic Shift hypnosis protocol. Many have benefited already, are enjoying relief and are able to do those things they thought they never would again. Book now or  call for more information.
This free will donation-based session is ONLY available on Friday, September 29.
(Please note that a letter from your doctor is required for me to work with you for chronic pain.)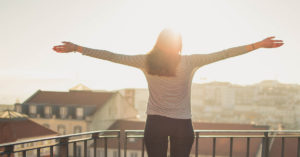 ---
Mindfulness Based Relaxation Playshop
February 11, 2017

Are you looking for effective ways to relax and de-stress?
Learn mindfulness based methods to relax, eliminate anxiety and enjoy life.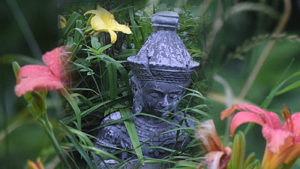 Join my playshop on Saturday, February 11 from 1:00 – 4:00PM.
In beautiful downtown Viroqua, WI at 118 1/2 S. Main.
This will be an experiential workshop where you will practice the tools you learn. Using cutting edge consciousness tools you will learn how easy it is to be calm and find peace in this busy world. Included with your investment of $30 is a relaxation recording that you'll enjoy long after the workshop is over.
To register, call 608.386.7403 or use web contact form. I look forward to helping you discover true relaxation!
---
World Hypnotism Day Open House
Wednesday, January 4, 2017
Join us for an open house to celebrate World Hypnotism Day, Wednesday, January 4, Noon – 6:00PM in The Landmark Center, Suite 102A, Viroqua, WI. Free and open to the public. Light refreshments served. Door prizes.
Learn about the latest research studies showing the positive results of using hypnosis for pain management, IBS and gastrointestinal disorders, anxiety, phobias, PTSD and stress as well as insomnia and sleep issues. Managing the effects of chemotherapy and cancer treatments. In enhancing athletic and academic performance. Learn about the clinically proven Virtual Gastric Band program for changing body shape and size.
Learn about Mindscaping and using the power of the subconscious mind to remove obstacles to your success.
Get your questions answered regarding the benefits hypnosis offers for personal change.
Purchase any program on World Hypnotism Day and get 25% off the regular price!
---
Friday, November 4, 2016
Join us in expanding the boundaries of consciousness.
6:30 – 9:30PM
At: The ARK
401 E Jefferson St
Viroqua, WI 54665
http://www.thearkviroqua.org
info@viroquantum.org
608.637.6767
$15 minimum donation at the door
———————————————————————–
Evolutionary Astrologer Ryan Evans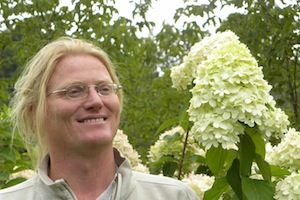 Ryan Evans is a certified Level 2 Evolutionary Astrologer with the Steven Forrest School of Evolutionary Astrology. Through the observation and translation of the Astrological Archetypes, Ryan assists you in gaining greater self knowledge and self love.
Ryan will be presenting a particular perception of the Evolution of Consciousness as seen through the lens of Evolutionary Astrology. Through this lens we'll be exploring the ways and means to living our happiest most unique expression of consciousness through what he has come to call Seasonal Archetypology; where we relate the cycles and spirals of our life's experience to the symbology and rhythms of the Astrological Archetypes' seasons and rhythms. As within so without, as above so below. Why? Come to the ARK and find out….
…                        ….                            ….
Hypnotist and Mind Trainer Gayle Nielsen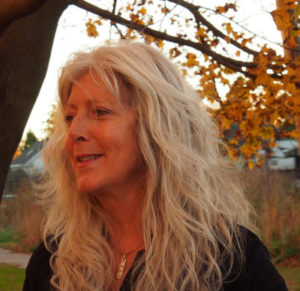 Gayle Nielsen is a Hypnotist, Certified Matrix Energetics Practitioner,  Kundalini Reiki Master and martial artist of over 30 years. With degrees in both Electro-Mechanical Technology and Visual Communications, and a corporate career in laboratory materials testing and Information Technology, she brings a solid science background to her work in understanding consciousness. She works with clients in private practice and group to access resource states where observable change takes place.
 She will be speaking about different models and states of consciousness and teaching different methods of accessing some of those states for personal growth. Guests will have the opportunity to be led in a group experiential journey to access their unique resources.
….                               ….                              ….
Featuring the transformational music of world flute specialist Peter Phippen and sound healer and musical mystic Rahbi Crawford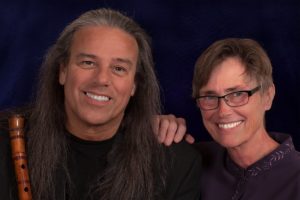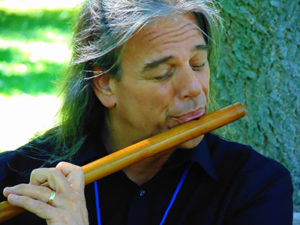 A Grammy Award nominee and four-time Native American Music Award nominee, Peter Phippen is a nationally and internationally respected world flute specialist, recording artist, scholar, educator, and producer. In his approach to world flute performance, he is an experiential, natural folk musician with a penchant for creative and artistic musical improvisation.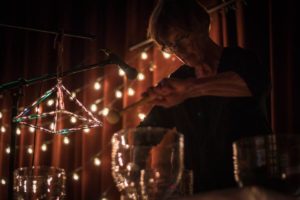 Rahbi (Roberta) Crawford has accepted her calling as a Musical Mystic. (Mystic: A seeker of Spiritual truths).  One of the truths is that to be in balance we must honor our bodies, mind and emotions as well as spirit.
Rahbi holds two Master Degrees in Music plus six years of advanced study with professional conducting organizations and two levels of Sound Healing study with Fabien Maman in the South of France. Besides her extensive musical skill and training, Rahbi brings to her music the benefit of her own emotional healing and Spiritual depth.